I wanted to call this post "Girl Power" for the two Berkeley gals below: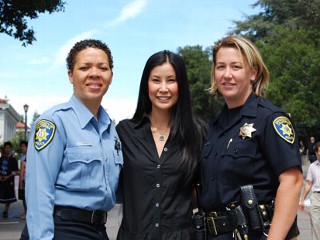 On the left is Berkeley staffer Lisa Campbell, and Ally Jacobs is on the right. She's the officer that didn't like what she saw, followed her instincts, and blew this thing wide open. (ABC has the story and the photo.)
The story also attaches a Google map photo of the Garrido compound. Google knew something was up all along. You can click on the map of 1554 Walnut Ave., Antioch, CA and move around.
I have been absolutely mesmerized by this story from the time it broke. I suppose it's the mother in me. How do you even begin to explain/survive/recover from this kind of thing? How does the family?
On the one hand, I want to know everything. On the other, my world felt safer when I knew nothing at all. The world is full of sick people. As much as I'd love to chirp with Pollyanna, I can't forget it.
Maybe we aren't supposed to forget.