A day before the New President Barack Obama leads the country in school cheerleading sessions, two days before the important joint session on the refashioned health care crisis, Obama is at -13 in the Rasmussen poll.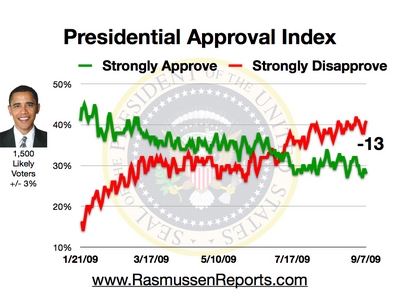 If you want to look at all the polls, not just Rasmussen's chart of strongly approve/disapprove from likely voters, you can see the lineup at RealClearPolitics. Still not a comforting trend for his fans if you ask me.
(Sorry, that chart simply would not cooperate!)
Here's the real concern, and we've talked about it before. It's not that Obama is losing a lot of his base. The approval line (black) towards the center isn't very steep. His problem remains in those previously withholding an opinion, but now voicing one in disapproval. The change in the red line is greater over the same time period.
I'd interpret that as he continues to lose independents.
Also, notice how his ratings improved slightly the week he was on vacation. The man kept his mouth a little more quiet and things got better.
Hmmmm…