Compares opponent Mark Neumann to Nancy Pelosi.
Uppity Wisconsin has a copy of the postcard Walker's campaign has mailed: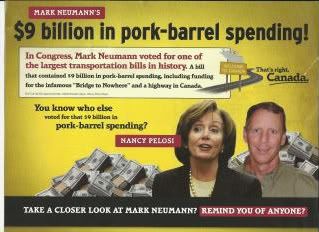 (I'd love to get my hands on that mailer. If you have a copy let me know.)
Besides being downright negative, it looks like it's wrong. Wasn't the "infamous Bridge to Nowhere" appropriated in 2005? Neumann was in Congress 1994-1998. I'm sure the fine print holds a clue, but right now I'm not getting it.
In addition Walker will be rolling out a similar television advertisement on Tuesday.
Here's a story WBAY did on Walker's decision to go negative. They pulled the story almost immediately after publishing it, but a screen capture is below. (Click to enlarge.)
I suspect in a week and a half I'll be able to look back and call this advert Scott Walker's public jump over the shark. Maybe as a conciliation prize Walker can have his photo made with the Bronze Fonz.
—
I'll get an update to the congressional bill referenced as soon as I can read the fine print.
—
Updates are now in the comments.