You know, at this point I've pretty much settled in to watch the dance. Take for instance this catch by Nate Silver:
One stresses functioning; one stresses fear.
I think the consequences of blowing through the debt ceiling must not be that great or President Barack Obama would have stayed at the table. Therefore, call his bluff. Republicans can get what they need out of the deal. The consequences of not arriving at a deal are huge for the Democrats. It either shows the inability of the President to lead, or shows the willingness of the President to govern by scare tactics if there's no real consequences.
What if the President along with the help of the treasury secretary created a false crisis in order to never let a crisis go to waste? Problem is, a lot of America knows the President whistles louder when he's bluffing. Yes, I'm saying it's very possible the President has exaggerated the situation in hopes of fixing it, and thus saving his rankings.
Oh, about those.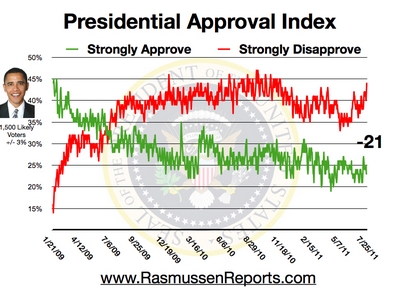 That is some serious ugly for the Whistler in Chief.